Dysbiosis-related urinary tract infections
The microbiota seems to play an important role in infections of the lower urogenital system, whether it is the urinary microbiota (urine is not sterile) in the case of urinary tract infections, or the vaginal microbiota, in the case of bacterial vaginosis and vulvovaginal candidiasis. However, there is a difference: while diversity is favorable in the first case, it is unfavorable in the latter.
URINE IS NOT STERILE
Historically, urine was considered sterile but recent scientific discoveries have shown that this is not the case: 562 bacterial species have been identified in the human urinary microbiota.6 Of these, 352 species (62.6%) have been linked to at least one report of infection among humans, including 225 (40.0%) described as the causal agent of urinary tract infections. The eight bacteria most commonly implicated in UTIs are Escherichia coli, Staphylococcus aureus, Pseudomonas aeruginosa, Chlamydia trachomatis, Neisseria gonorrhoeae, Klebsiella pneumoniae, Proteus mirabilis and Enterococcus faecalis.6 Conversely, bacteria that secrete lactic acid, namely Lactobacillus and Streptococcus, are believed to play a protective role against pathogens7: lactic acid lowers the pH of urine (≈ 4.5), resulting in a microenvironment that is unfavorable to most pathogenic bacteria, while lactobacilli produce antibacterial metabolites (hydrogen peroxide and bacteriocins).
GLOBAL, GUT AND URINARY MICROBIOTAS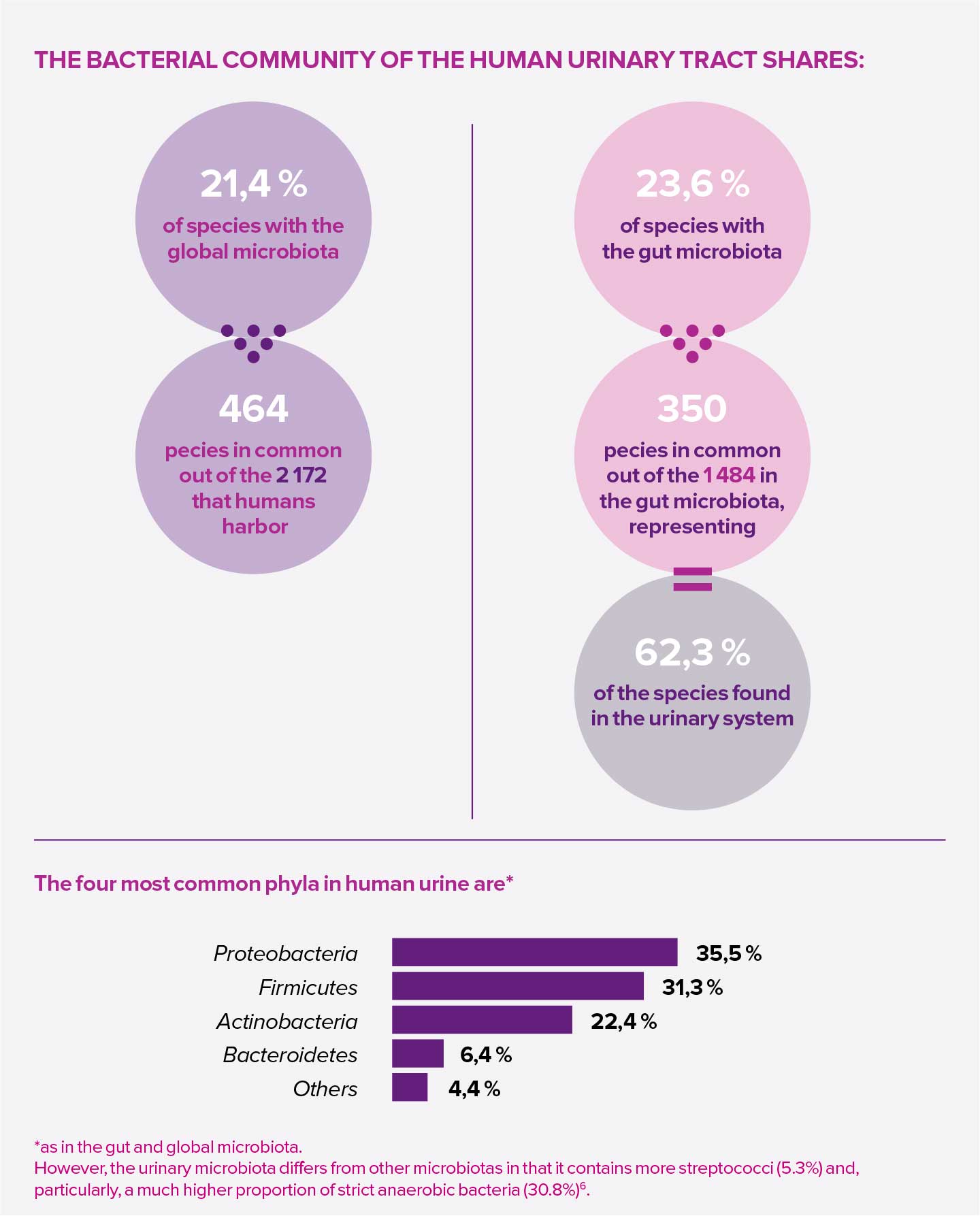 WHEN DYSBIOSIS OPENS THE DOOR TO PATHOGENS
Studies published to date have demonstrated the clear role played by the urinary microbiota in urinary tract infections and responses to treatment.7 Several mechanisms have been put forward, for example, commensal bacteria acting as a barrier against uropathogens (secretion of inhibitory or bactericidal molecules), with a loss of diversity in the urinary microbiota leading to a urinary tract infection.6 Therefore, while most microorganisms colonize the human body without causing infection, they may be- come pathogenic under certain conditions (immunosuppression, antibiotic resistance, etc.). A urinary tract infection may therefore develop due to the action of commensal bacteria when a dysbiosis exists. Other potential factors include disorders of a traumatic (catheter), bio- chemical (acidity, etc.), hormonal (pregnancy), mechanical (constipation), or alimentary (food pathogen that reaches the urinary tract from the digestive system) nature.6 On the other hand, certain eating habits (consumption of fermented dairy products containing probiotic bacteria or of cranberry juice) may help reduce the risk of recurrent urinary tract infections by regulating the microbiota.6,7